Return to Headlines
Middle Schoolers Learn About Important Female Musicians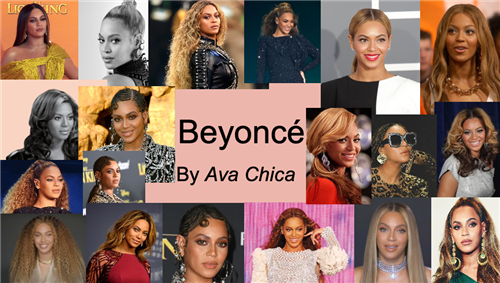 Henry H. Wells Middle School chorus students have been digging deep this month to learn about iconic female musicians like Whitney Houston, Dolly Parton, Cyndi Lauper, and Carole King. The work is part of a Women's History Month project with chorus teacher Johna Barrow. In February, chorus students did a similar project for Black History Month.
"To further deepen students' understanding and appreciation of female musicians and their contribution to the entertainment industry, students were asked to research and present on the life of a female musician that had an impact on their personal life," Barrow said. "Students were required to research the musician's childhood, education, struggles, contributions to the music industry and more."
The assignment led to students learning about the lives and works of a wide range of female musicians including Adele, Beyoncé, Clairo, Lady Gaga, Jennifer Lopez, Mariah Carey, Christina Aguilera and many more.
"I did my project on Adele," said sixth grader Rudy Sola Perez. "She is a really popular artist and I didn't know anything about her. It was sad to learn that her dad left her when she was younger."
Seventh grader Sophia Bartolomeo learned about Jennifer Lopez and thought it was fun to discover new facts about her.
"I was surprised that Jennifer Lopez moved out of her family home when they failed to support her dreams of becoming famous," Sophia said.
Chloe Constantin, an eighth grader, dug deeper into Beyoncé's life story. Chloe was introduced to Beyoncé's music through her parents and she has always found the iconic singer to be a great role model.
"Something I learned that was surprising to me is that Beyoncé struggled with depression in the early years of her career," Chloe said. "What I liked most about this project was that I got to learn about Beyoncé as a person and not so much about her music career. If you take the time to do the research about her and learn about her upbringing and what life was about before she got famous, you will learn that she is human and she made some mistakes throughout her life but she is overall a great person inside and out."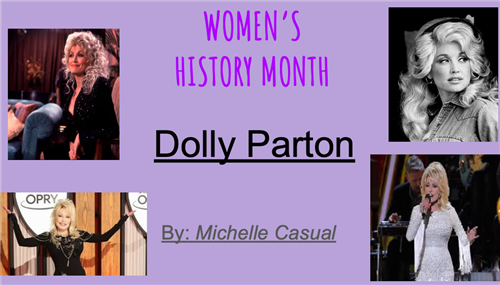 After completing their projects, students had the opportunity to share them with their classmates and read their peers' presentations.
"While reading through students' presentations, I certainly discovered more about musicians that I already knew — and I was even introduced to some new musicians!" Barrow said.
While shedding new light on famous female musicians, the project also resulted in students thinking more deeply about the importance of Women's History Month.
"It is important for not only girls to learn about Women's History Month, but for boys to learn about it too," Chloe said. "It's a month to learn about what past women did in their lifetime and everything they fought for to get to where they are. This month shows that women are powerful and strong and can do whatever they want when they put their minds to it. When boys and girls learn about Women's History Month it hopefully gives them the confidence to accomplish their dreams and more."
You can check out project highlights here.