Return to Headlines
Wells' Vibrant Art Show Celebrates Black History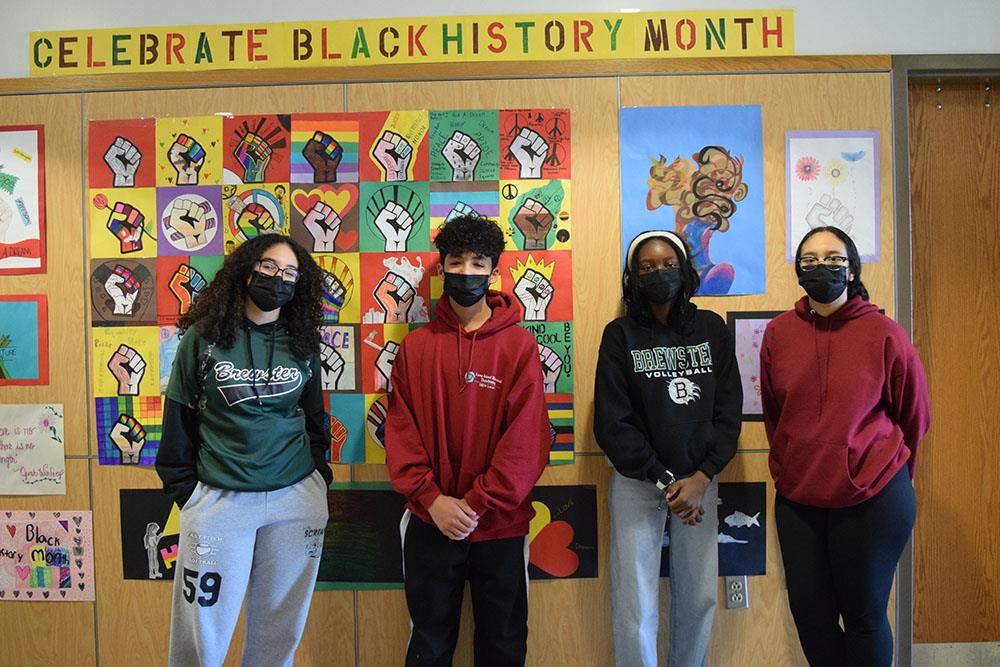 Last month, Irene Othmer's art students at Henry H. Wells Middle School worked on projects for Black History Month. Their efforts were celebrated with a beautiful art show in the main hallway outside of the auditorium.
"Sixth grade Creative Arts students worked with the symbol of the fist and we put them together to make a quilt," Othmer said. "Their only requirement was to use the fist in the piece somewhere."
The result was a vibrant patchwork full of unique pieces that were tied together with a common symbol. Some pieces used words and phrases, while others used imagery to get their point across.
Alanah King and Trevor Byrnes both incorporated words into their art.
"I'm not that great at drawing, so I decided to write a lot of words that have to do with respect for other people and pushing towards your goal," Alanah said. Her piece featured a white fist filled with words and phrases in black against a red background. "I thought of words that had to do with Black history, LGBTQ+ or people that have to fight to be treated equally. I kept the background simple."
Trevor said his inspiration was very similar to Alanah's.
"It has a lot to do with both respect and the LGBTQ community," Trevor said. While their inspiration was similar, Trevor and Alanah's pieces looked very different. His fist featured fewer words and each one was written in a different color. His background was also red, but featured a pop of yellow.
"The yellow is like sunshine coming down on the hand and the words form a rainbow," he said.
While sixth graders were given some direction, seventh and eighth graders worked on completely open-ended projects.
"I did nothing. I take no credit," Othmer said with a smile. "I basically said, 'Do whatever you want.' I did talk to them about posters that impact you. That's why a lot of them went a little bigger, they put borders."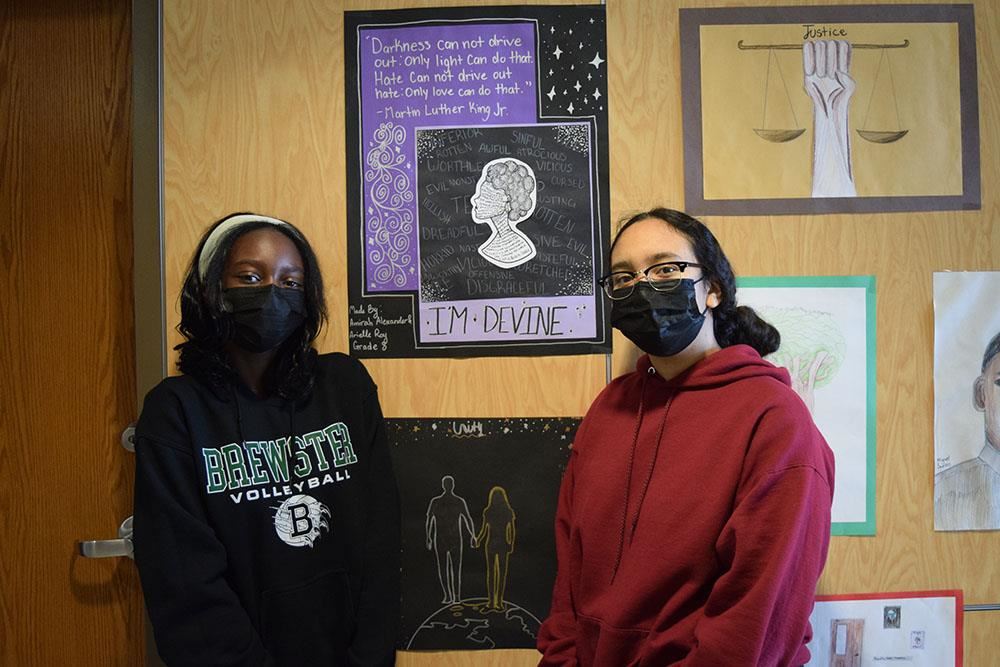 Eighth graders Amirah Alexander and Arielle Roy worked together on a beautiful piece that changed as they were working on it.
"Their piece kind of grew organically," Othmer said. "They started out with a small silhouette of a head. They worked together and somehow kept building the layers using words. I watched them work and was thinking, 'I don't know what they're doing, but it's coming together.' They had a method to what they did and a very mature approach to their work."
The pair had a clear idea when they started.
"We wanted to have a girl telling herself positive words in a world where people tell her negative words. That was the original idea," Amirah said. "But we decided to expand on that when we saw someone else's piece. It really inspired us to add more. So, we added a quote in the background and we added designs to fill space. Then, at the bottom, we wrote 'I'm divine' to explain the message."
Arielle added some context to where their inspiration came from.
"We're reading a book in English called "Warriors Don't Cry" by Melba Pattillo Beals. She was one of the Little Rock Nine members," Arielle said. "We wanted to do something as if she were standing in front of Central High, the school that she was integrating into, and put some words around her."
The duo was clear on how they chose the words they featured. The black words written inside of the silhouette were affirmations, while the white words on the outside were negative.
"The white words represent words that white people might have said to them," Amirah said. "The black words represent words that another Black person might have said to uplift them and try to make them feel better. She's going through a lot and, at the time, white people weren't very nice to her."
The message of "I'm divine" underneath her was very intentionally made bold.
"We wanted to make it clear that she's listening to herself and saying, 'I am who I am. I am unique,'" Arielle said.
Amirah and Arielle's piece also included a famous quote from Martin Luther King, Jr.: "Darkness cannot drive out darkness; only light can do that. Hate cannot drive out hate; only love can do that." The quote also inspired eighth grader Cadin Lappin's project.
"I wanted to feature someone famous in Black history," Cadin said. "I found a Martin Luther King, Jr. quote that I really liked and I wanted to do a piece about it."
Though inspired by the same quote, Cadin's piece could not have been more different from Amirah and Arielle's. While theirs was black, purple and white, Cadin's piece featured bright colors and incorporated both collage and painting.
"I have never used collage as one of my mediums," Cadin said. "I really wanted to try it."
Cadin researched famous Black artists and the color palettes they used.
"A lot of their color palettes were very vibrant and didn't use a lot of black," Cadin said. "They used other dark colors for shading. So, I took that as my inspiration."
To make the piece larger scale, Cadin first drew Dr. King on a piece of acetate and then projected it to make it bigger. The next step was collaging over the sketch. The background was done in watercolor to ensure that both the collage and the quote stood out.
As students spoke about their projects, it was clear that a great deal of critical thinking went into their creations. The result was a collection of unique, impressive pieces that the entire school got to enjoy.