Return to Headlines
Brewster Schools' Child Nutrition Services Celebrates One Year of Serving Remote Meals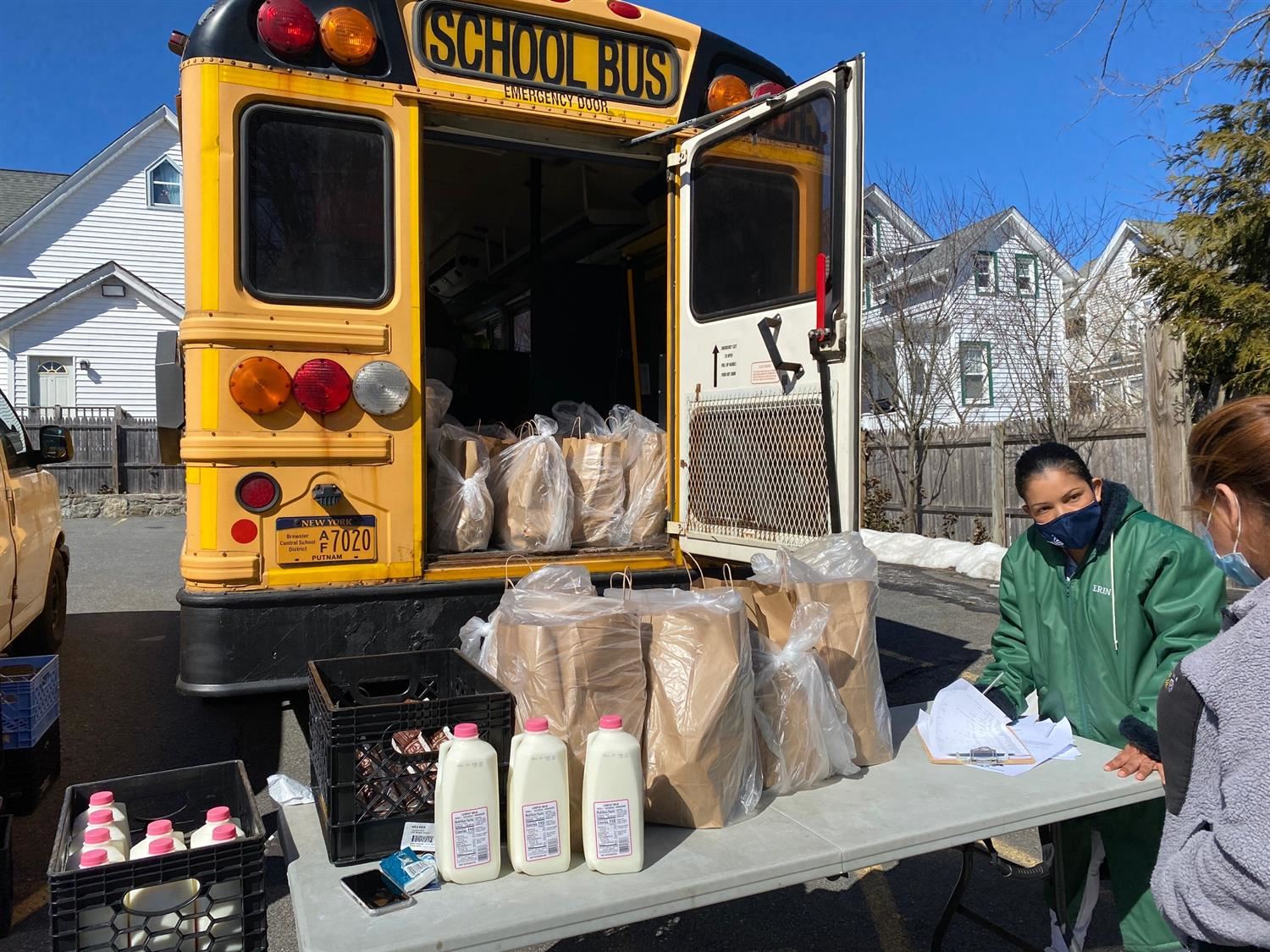 This week marks one year since Brewster schools' Child Nutrition Services department began serving meals to students who are learning remotely. In that time, the department has distributed 280,017 meals and counting.
The effort has been very much a labor of love. That is not surprising coming from a team that works to incorporate many healthy, homemade recipes into their menu. Offerings like the turkey dinner meal, pasta meal and chicken teriyaki are all made from scratch.
"Depending on the number of days in the week, we try to do two meals from scratch in addition to other items," said Jean Dohan, assistant school lunch director.
Distributed each Monday, the meals for remote learners are prepared in between in-school food preparation and require staff to work around issues like storage space and the weather.
"We are always on our toes ready to switch gears in a second," Dohan said.
Those changes even include some of their offerings.
"We decided to offer chocolate milk cartons in addition to plain half gallons of milk," Dohan said. "Feedback from many families made us feel good about this decision because the cartons really signal a connection to school for those students who are learning remotely or when we are on temporary closure."
Meal preparation for remote learners starts a week before the distribution date. During a typical week, Director of Child Nutrition Services Cathy Hancock will create a list that contains the items that will go into the following week's bags. The cooks prepare the entrees and delegate tasks to the staff, who prepare the rest of the items on the list — from bagging items like cheese bites and rolls to portioning out fruits and vegetables. The meals are then frozen until Monday morning when they are put into shopping bags for distribution. Some are transported via school bus to St. Lawrence O'Toole School while others are stored at Brewster High School for Monday night's distribution.
Transportation staff helps to load bags and milk, drive the meals to St. Lawrence and set up the table and tent for distribution before coming back for pickup and helping to store or transfer unused items to the high school for the evening distribution. The custodial team also helps to move milk and remove trash.
"All the staff who work on this have been amazing," Dohan said. "They really put care into their jobs so this can happen week to week. Many sign up for shifts on holiday weeks and evenings."
While students are beginning to come back for five-day instruction, remote meals will continue to be distributed to those students who are not returning in-person.
"We thank the community for their participation and will continue to distribute meals for students that have chosen to remain learning remotely," said Hancock.
For more information on school meals while remote learning, click here.
View our video celebrating one year of providing meals to remote learners here.