Return to Headlines
Nora Paladino Recognized by Prudential Spirit of Community Awards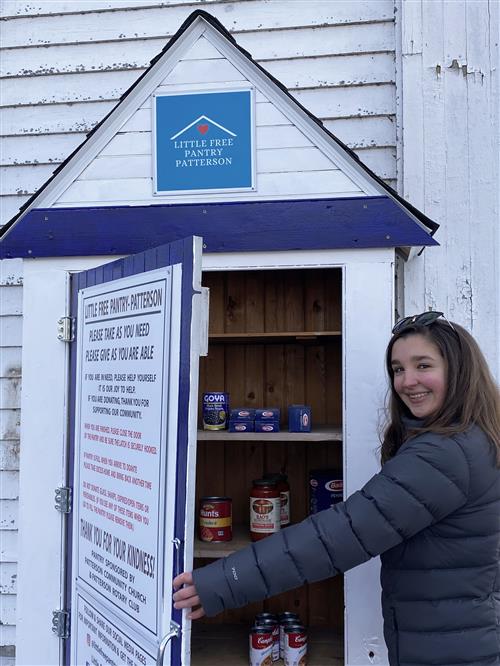 Brewster High School junior Nora Paladino was recently awarded a Certificate of Excellence in the 2021 Prudential Spirit of Community Awards. The award celebrates Nora's commitment to service and commends her on being in the top 10 percent of New York State youth volunteers.
Nora's award recognizes her hard work in establishing The Little Free Pantry of Brewster, a structure full of nonperishable foods designed last year to help food insecure members of the Brewster community.
A lot of work went into getting the Little Free Pantry started and, earlier this month, Nora opened a second pantry at the Patterson Community Church (1062 NY-311, Patterson, NY). While the Brewster pantry has a daily sign-up sheet for donations, the Patterson pantry will work organically — anyone can drop off items at any time.
"It's hard to say exactly how many hours a month or week I spend on the pantries because it varies," Nora said.
Getting a pantry established requires many meetings, emails, phone calls and presentations. For the Little Free Pantry of Patterson, Nora also organized a Pizza with a Purpose fundraiser with Town Square Pizza, which raised over $1,200 to build and stock the new pantry. That alone required many emails and phone calls, the creation of flyers and working to spread the word — and that is on top of the work it took to get the project approved.
Once the pantry is up and running, Nora's work shifts.
"I manage the signup for the Little Free Pantry of Brewster, as well as the social media pages for both pantries," she said. "I also research food insecurity in Putnam County and post statistics and facts to make people aware of how necessary this supplement to regular food pantries and soup kitchens is."
In addition, Nora visits the pantries to see if anyone has left a note asking for certain items and does general maintenance while making sure nothing is broken or expired.
"I also write community service hour letters for volunteers who need them and keep in touch with the pastors of the community center and community church where the pantries are located," Nora said.
For Nora, all of this is a labor of love. Her commitment and genuine desire to help could not be more apparent.
"I know that food insecurity is a serious issue — especially now because of the pandemic — and I love knowing that I'm helping to provide the resources that people need," she said. "I also love knowing that I'm providing people in my community with volunteer opportunities — someone can sign up to fill the pantry once and make a difference, and it's also something that they're able to fit into their busy schedules."
Nora loves to see other groups from the community get involved. Recently Brewster High School's Life Skills class, the Kindness Klub at Wells and Ms. Velasquez's Italian class have all pitched in.
"I'm glad that it could build community during these tough times when we might feel disconnected from one another," she said. "I also really enjoy seeing kids going with their families to fill the pantries because it reminds me of when I used to volunteer at food pantries with my parents when I was little."
Nora has done a lot of volunteering, but the feeling in the end is always the same.
"Whether filling boxes for United for the Troops, volunteering at Putnam CAP's food pantry, or packing lunches for the homeless through Brewster C.A.R.E.S., I always leave a volunteer activity with an amazing feeling that I can't get anywhere else — the feeling that even though I'm one teenager, I can make a difference," she said. "I think that instilling values of kindness and helping others through volunteering is really important and can help make our community and world a better place."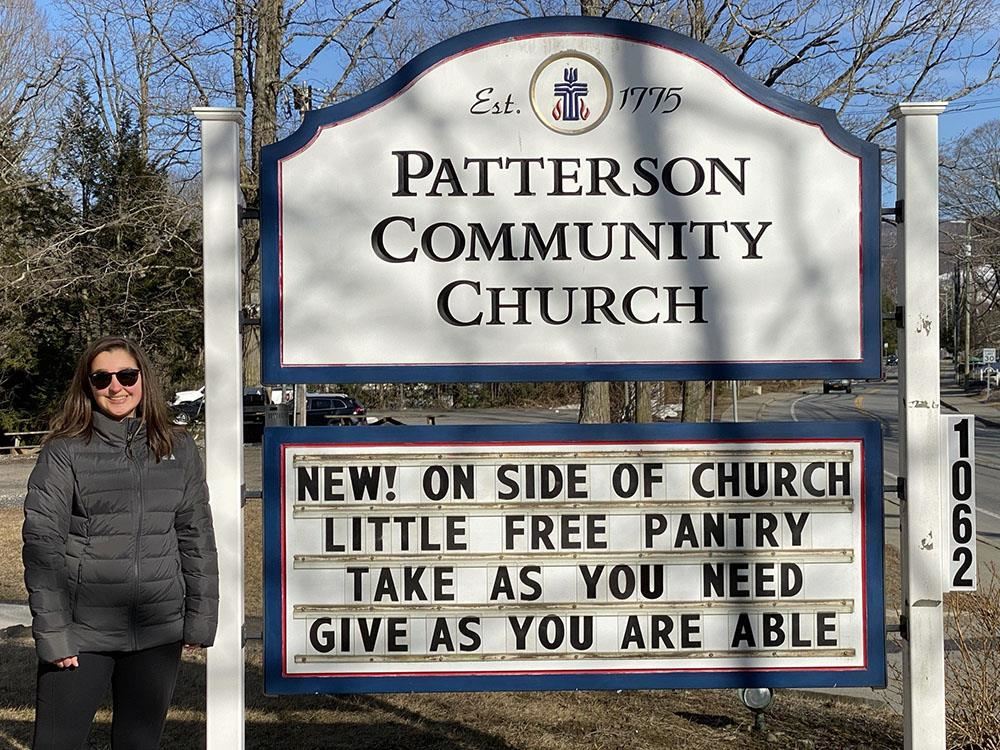 For more information and updates on the Little Free Pantries, you can visit the pages Nora has created:
Brewster: Facebook, Instagram, sign-up sheet