Return to Headlines
Brewster High School Seniors Launch the School's First Morning Show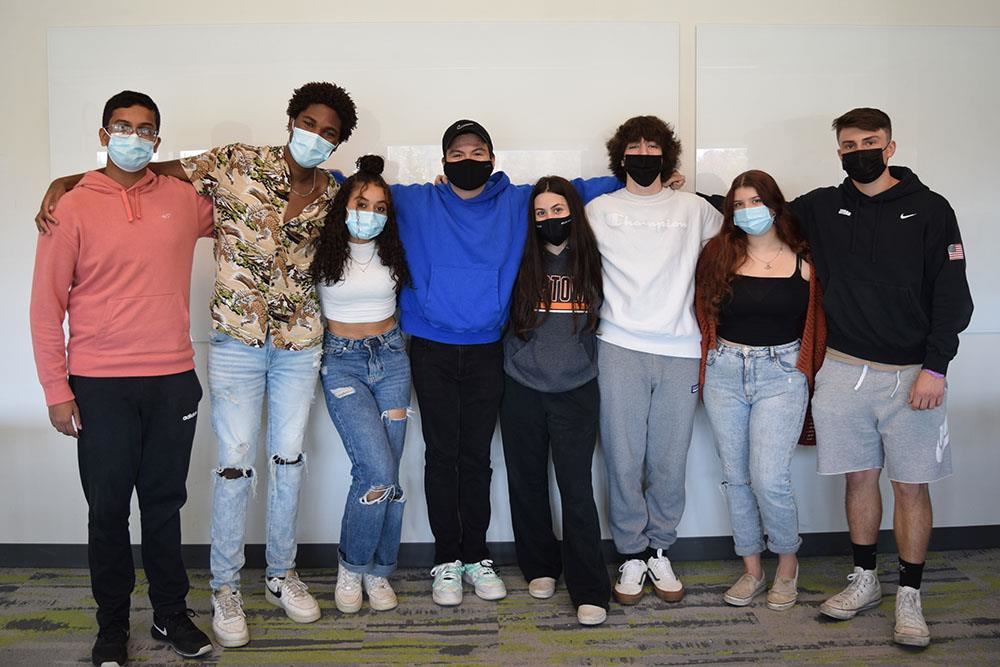 Brewster High School's first student-run show, The Morning Brew, has been a hit with both students and teachers alike since it debuted at the end of September. The five-minute, bi-weekly show combines the humor and lightheartedness of a morning show with news from Brewster schools.
"We want to provide a warm environment for everyone so they can just walk in and smile and laugh," said sports reporter Carissa Alvarado. "It brings happiness and gives a push of encouragement for the rest of the day."
Producer Daniel Ramos was the first student Ann Marie Chalmers reached out to when she and co-advisor Brendan Breen began trying to find students who might be interested and have the skills necessary to begin getting a senior-run show off the ground. Dan immediately reached out to Noel Kakkanattu who, along with Talia Rubeo, became the show's anchors.
"The administration wanted a student-run morning show," Breen said. "Something lighthearted that highlights everything that is happening at the high school and in the Brewster community. We wanted the kids' personalities to come out. The goal is for the students, parents and the community in general to see everything that is happening here in Brewster."
To prepare for each show, the cast and crew first meet to brainstorm.
"We all gather together at someone's house every episode," Dan said. "We collaborate and then work on our own and see what we want to write."
Once they have created an outline, Breen and Chalmers provide some constructive feedback. After filming, they look at it again before the administration gives its stamp of approval. The episodes air for the whole school at the beginning of second period.
"It's sort of like a makerspace," Breen said. "You give them the tools, the foundation, and you let them build. It is a great learning experience. They are learning not just about deadlines, but they have time limits. They are learning about editing, about writing, about what is acceptable as far as jokes go. It's been a learning process for all of us."
Watching the show, it is clear the cast enjoys working together.
"My favorite part of making the show is really just being around everyone and making memories, laughing, having a good time," said Carissa.
"We're getting the news out there but also having fun while doing it," added crewmember Sophia Moran. "This is one of the coolest things to come out of Brewster."
The team has enjoyed their peers' reactions to the show. Both Talia and sports reporter Jack Johnson have been recognized in public by students they had not met before.
"I got recognized by the cashier at the pet store when I was going to buy crickets for my frog," Talia said. "She looked up and said 'Oh! You're the girl from The Morning Brew!' I was shocked. This was after only the first episode came out."
Jack has enjoyed watching students' reactions while the video plays in class.
"Seeing it all come together and watching people's reactions is really cool — especially from people that you wouldn't expect. I felt like maybe my friends on the football team would think it's a little weird or not be very supportive of it, but it seems like it's a schoolwide consensus that it is a good thing and that people enjoy it."
Physics teacher Peter LaMoreaux, who made a guest appearance in a special Halloween episode, had nothing but good things to say about the show.
"The students producing the Morning Brew do a wonderful job," he said. "The show is creative and engaging and students are excited about watching the episodes. It is a wonderful way to highlight the activities and successes at Brewster High School."
As we start to head into the winter, the cast and crew is beginning to think a little bit about their legacy. They are planning to hold auditions for juniors in the spring to solidify next year's group, who should be able to do an internship of sorts with this year's team before they take over in the fall.
"Legacy wise, I just really want to keep this going for a very long time so more people have the opportunity to show what this high school is capable of doing," Dan said.
His teammates agreed.
"One day we won't be here anymore, but we've created this thing and watching it blossom is going to be so amazing," Sophia said. "I'm so incredibly excited to see where it goes not only this year, but in the next 10 years."
Breen and Chalmers are proud of the work this team has put into building the show and how they have worked together and relied on one another to make it work. The cast and crew specifically called out Dan with heaps of praise for his efforts.
"I really think that we should all be applauding Dan for his gumption and for his moxie to take something from scratch and build it up into this amazing thing that everyone is talking about," said reporter Tahj Arnold.
While flattered, Dan insisted it was a group effort that would not be what it is without each of its parts. It was clear that each team member is passionate about the show and the possibilities for it moving forward.
"I really hope the show allows the whole high school to get to know more about what's going on in the building, who the students are and what we represent," Dan said. "It's a thank you note to the community."
Cast
Talia Rubeo
Noel Kakkanattu
Tahj Arnold
Jack Jordan
Carissa Alvarado
Arthur Panetta
Crew
Daniel Ramos
Sophia Moran
Gabriel Weber
John Tomassetti