Return to Headlines
Brewster Students Against Cancer Donates to the American Cancer Society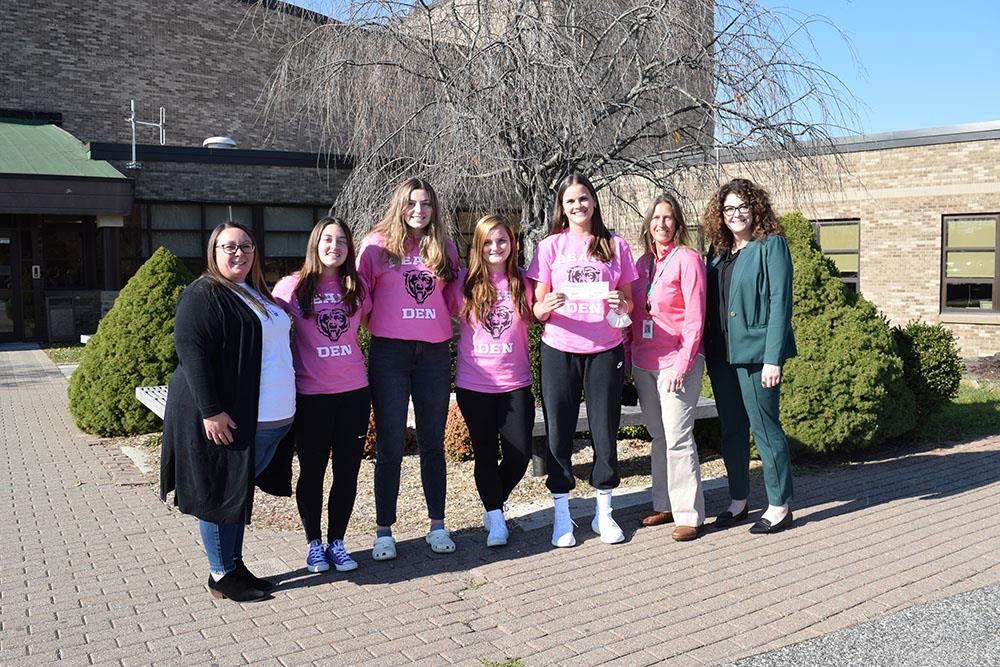 Brewster Students Against Cancer officers recently presented a check for $5,900 to Kate Corsitto of the American Cancer Society that will help patients and the families of those battling breast cancer.
The students raised the money during the month of October with two bake sales and a t-shirt fundraiser. Club advisor Michelle Villano and Brewster High School Principal Nichole Horler were on hand for the check presentation.
Club members set up a bake sale table in front of Kobacker's and monitored sales for 10 hours, raising $1,600. In addition, they held a pink Bear's Den t-shirt fundraiser, selling shirts to the entire Brewster community. The check presented to Corsitto was money made during those two events. The club also held a bake sale to support the volleyball team in its Dig Pink fundraiser and donated a decorated tree to Festival of Trees. Festival of Trees if the largest fundraiser of the year for Ann's Place, a charity that provides "help and hope to those living with cancer and to their loved ones."
"I am really, really proud of and grateful to all of you," Villano told the club's officers that day. "Thank you for your true dedication and the countless hours that you put in this month in service to others. We see how hard you work for others and are truly appreciative. Thank you for showing up and doing the real work."
Corsitto also expressed her appreciation.
"I have been fortunate enough to see what these students are capable of as the volunteer lead and now as staff supporting the Relay For Life of Brewster since our inaugural year in 2017 and it is nothing short of amazing," she said. "I am so thankful and so grateful for the way Brewster Students Against Cancer brainstormed and found ideas to execute this fall. Because of the funds they raised and the check they donated today, more lives will be saved, more birthdays will be celebrated and more programs can be funded."
Also impressed with their dedication, Horler was curious about where the students' passion for the cause came from.
"Why cancer? What's the connection for you personally?" she asked.
"One of my friend's passed away from leukemia and lymphoma when I was in eighth grade, so that's why I joined," Public Relations Officer Madison Dakin told her.
Vice President Rory Charbonneau noted that the club really took off during the pandemic.
"The club expanded during COVID," she said. "Everyone logged into the virtual meetings and they have stuck around."
Photo (left to right):
Kate Corsitto - Senior Development Manager, American Cancer Society; Anna Peterson - BSAC Treasurer; Grace Galgano – BSAC Secretary; Rory Charbonneau – BSAC Vice President; Madison Dakin - BSAC Public Relations Officer; Michelle Villano – BSAC advisor; Nichole Horler – BHS principal
Not pictured: Erica Hamel - President