Return to Headlines
Sweethearts & Heroes Trains High Schoolers to Mentor Elementary School Students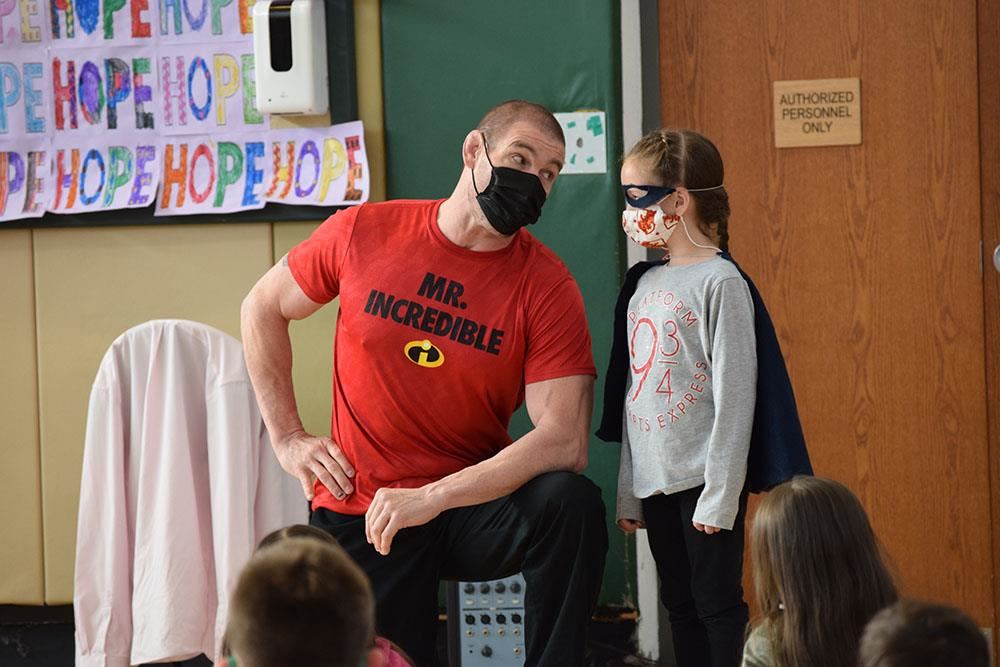 Giggles filled the gym at John F. Kennedy Elementary School (JFK) as Sweethearts & Heroes co-founder Tom Murphy tore open his shirt to reveal a Mr. Incredible t-shirt. The reveal was part of a bullying prevention program that captured students' attention from the very start.
This was not Murphy's first visit to JFK. He and Rick Yarosh, a retired sergeant with the U.S. Army — injured in Iraq with burns over most of his body — visited the school three years ago to share their "'stop, drop and roll' of bullying" lesson and message of overcoming adversity. Through role playing, students were taught the ABC Action Plan for dealing with bullies: take a person away, become a buddy, and confront the bully or call for help.
"The Sweethearts & Heroes program teaches our youngest students in grades K-2 how to identify and deal with bullying," said JFK Principal Dr. Frank Zamperlin. "Our students learn how to confront the bully by themselves and with others, as well as by not being a bystander when it happens. Tom and Rick do this in a very age appropriate way through storytelling, role playing, and modeling."
During their most recent visit, 10th graders also benefited from the program.
"This year, they incorporated our 10th graders from Brewster High School into the program as leaders, running bullying drills and acting as mentors for our children," Dr. Zamperlin said. "This is a wonderful and effective way to build relationships between our students, younger and older, within Brewster schools."
The day before visiting JFK, Sweethearts & Heroes delivered a 90-minute presentation to Brewster High School students. Afterward, 20 sophomores met with Murphy and co-trainer Pat Fish to learn about BRAVES, the Sweethearts & Heroes K-12 self-directed leadership program designed to connect middle and high school students with elementary students. Students learned about each other's strengths and weaknesses and how they would help lead JFK students through specific bully drills the following day.
"The presentation was eye-opening from the start," said sophomore Keira Golash. "It gave me a new perspective, especially meeting Rick Yarosh; meeting someone who had gone through what he had was such an amazing experience."
Keira's classmate, Arianna Fisher, was also moved by the experience.
"I was so inspired," Arianna said. "The presentation has impacted me in such a positive way — and I wanted to inspire JFK students the same way. I remember when I was in JFK, I would look up to high school students and get so excited to be able to work with them. Now, when I get to work with them, I have a new perspective."
Both girls were surprised by what they learned during the circle work portion of their training, which Sweethearts & Heroes describes as "the foundational vehicle we use for communicating, connecting, and building a community and sustained culture of compassionate empathy." The girls noted how much they learned about their peers during the experience.
"The circle work was definitely not what I expected," Arianna said. "There are so many new things that I heard from students in the circle that I normally wouldn't hang out with. It gave me insight on how things might not actually be the way you think they are."
Keira noted that the circle work made her feel better prepared to work with students at JFK.
"We did bully drills with small groups of second grade students when we arrived at JFK," Keira said. "It was fascinating to see how much the children understood about bullying and how eager they all were to play the 'sweetheart.' I believe that combining second graders and high school students provided a unique and fascinating experience. They explored what bullying was all about — especially because we were instructed to share a personal experience about bullying with them. Overall, this was a once-in-a-lifetime experience that I will never forget, and I am looking forward to returning to JFK every few weeks to continue performing the bully drills."
JFK physical education teacher Eric Buzzetto, who brought the program to Brewster schools, was very happy with the experience of high school students mentoring the elementary students.
"My hope is that if we can train students at JFK, by the time they get to the high school they will know what to do and will be involved in the mentoring program between Brewster High School and JFK," he said. "The administration at both buildings are really invested in creating relationships between the schools."