Return to Headlines
Wells Middle Schoolers Make Personal Connections to Book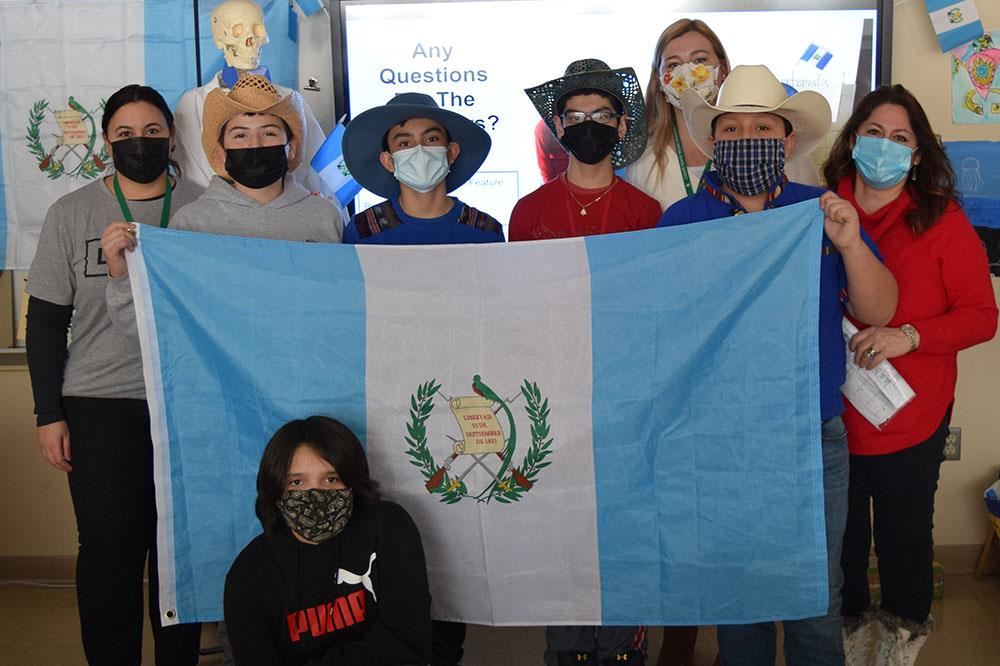 After reading "Inside Out and Back Again" by Thanhhà Lại, students in Julia Borsari and Grace DiMarco's eighth grade English Language Arts class at Henry H. Wells Middle School realized that their families had very similar experiences to the main character and her family. This realization led to a project that involved the five students interviewing their parents and presenting their immigration stories to a room full of teachers, staff and administrators.
"The book's main character, Hà, leaves Vietnam and comes to the United States for a new life," Borsari said. "When we finished reading, my students realized that their parents, who immigrated here from Guatemala, went through some of the same things that Hà went through."
Borsari said students made many connections between their parents' experiences and the book: They left their home countries for the chance at a better life; they endured difficult journeys with harsh conditions; they experienced discrimination due to a language barrier once they arrived in the U.S. and so much more.
After the students shared stories with each other, Borsari brought up the idea of a project that would involve students interviewing their parents and learning even more about their journeys while practicing the four literacy skills: reading, writing, listening and speaking. They were very enthusiastic about the idea.
"We sat down as a class and brainstormed what we wanted to find out from their parents," Borsari said. "Students took turns sharing questions, and we made a list in chronological order. We translated the questions into Spanish, so students had an English and a Spanish copy."
When the time came to present, students were full of nervous excitement. They began their presentation by giving their guests an introduction to Guatemala. They explained the symbolic meaning of the country's flag, showed pictures of traditional clothing and talked about the different languages spoken there.
Afterward, students presented what they learned from interviewing their parents.
Kevin Ramos Recinos talked about how his parents came from two different backgrounds. His mom's family was from a wealthy area, and his dad's was not. Still, they came separately to the U.S. in hopes of a better, safer life.
"At times my mom and dad get treated badly because of language differences," Kevin said. "People look at them weirdly and sometimes make comments when they are not able to understand them."
After the presentation, students took questions from their guests and then walked around the room sharing more of their families' stories. A common theme in their conversations was how hard working their parents are and how grateful they are for the sacrifices they have made.
"Knowing your parents' story more in depth from this project, does it give you more drive to be successful?" Principal Christian Hernandez asked one of the students.
"Yes, it really does," he responded.
Students were both proud and thankful to have been able to work on something so personal.
"One of the most interesting things that we learned through this project is how much our parents sacrificed and how much they went through to create better lives for us," students said. "Additionally, it was crazy to see how much we all have in common that we did not even realize. Our families all went through very similar journeys to give us the lives we have today."
Students also said they really enjoyed working on the project.
"Our favorite part was talking to our families because we learned things we did not know about their struggles and sacrifices," they said. "Now we are learning to be grateful for all that our parents did for us."
This was exactly the outcome Borsari had hoped for.
"I hope that they are proud of their families and all of their perseverance," she said. "I also want them to know how brave they are to be able to get up and share their stories. Additionally, I want them to be able to make connections as they grow as readers. I want my students to be able to read something and find ways to connect personally to a text."
While "Inside Out and Back Again" featured a young girl from Vietnam, Borsari's five male students from Guatemalan families truly connected to the plight of Hà and her family.
"This project brought tears to many people in the room and helped to create a classroom environment where students are known, affirmed, safe, and challenged," Borsari said.
Thank you to Steven Alonzo Lemus, Isaias Cardona Sandoval, Bryan Flores Mayen, Kai Hosmer, Kevin Ramos Recinos and your families for sharing your stories.