Return to Headlines
Project Lead the Way Lesson Teaches Students Adaptability and Perseverance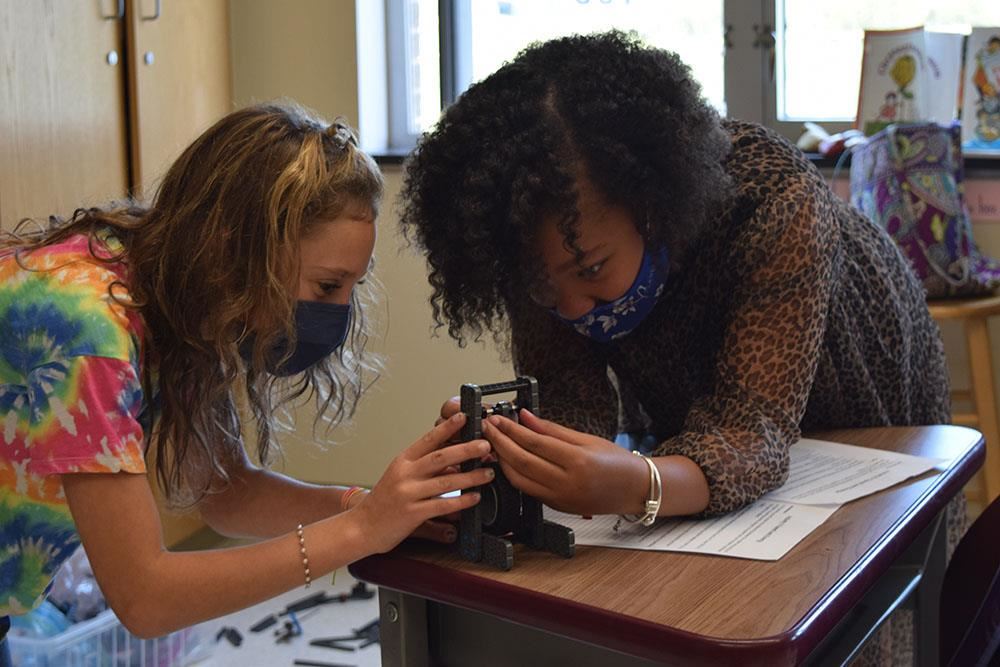 Pairs of students sprawled out across the classroom floor in CV Starr Intermediate School with big bins filled with small plastic pieces. Looking closely at their Chromebooks from time to time, the students tinkered with the pieces, each group building their own pendulum.
"This is a Project Lead the Way lesson on energy collision," explained fourth-grade teacher Pam Clapes. "Students are building pendulums to learn about potential and kinetic energy."
Students really seemed to enjoy the process, laughing and yelling out with excitement — but it wasn't easy. The lesson also worked in a healthy dose of adaptability and perseverance, two essential skills that are part of the district's Strategic Coherence Plan.
"Jade was getting really stressed," said Isabella Maenza of her partner, Jade McCown. The girls' first attempt at building their pendulum didn't go exactly as planned. They made some mistakes but were able to self-correct and even made enhancements to their pendulum that weren't included in the project's instructions.
"We used a stopper so that it doesn't fall apart," Isabella explained.
By the end, both girls were happy with their work.
"My favorite part was building it," Jade said.
Jade and Isabella were not the only pair that struggled. It took Catherine Solis and Olivia Wotola a few tries to get their pendulum built correctly too.
"We started over because it wasn't right," said Catherine.
"It was tight so it wouldn't go," Olivia added. "We had to loosen it."
Next to them, a pair of boys was getting help from Clapes.
"It almost works," she said. "Let's see what the problem is. Let's look here and here."
After a few tries, the boys figured out their roadblock and were able to swing their pendulum with ease, noting how fast or slow it swung depending on the height they dropped it from.
The students were not the only ones adapting. Clapes noted that this lesson is usually done in groups of four, but to maximize social distancing, they're doing it in pairs this year. Each pair is assigned their own kit, which they sanitize before and after use.
"We're making it work," said Clapes.