Return to Headlines
Students Use Science to Solve Fictional Crimes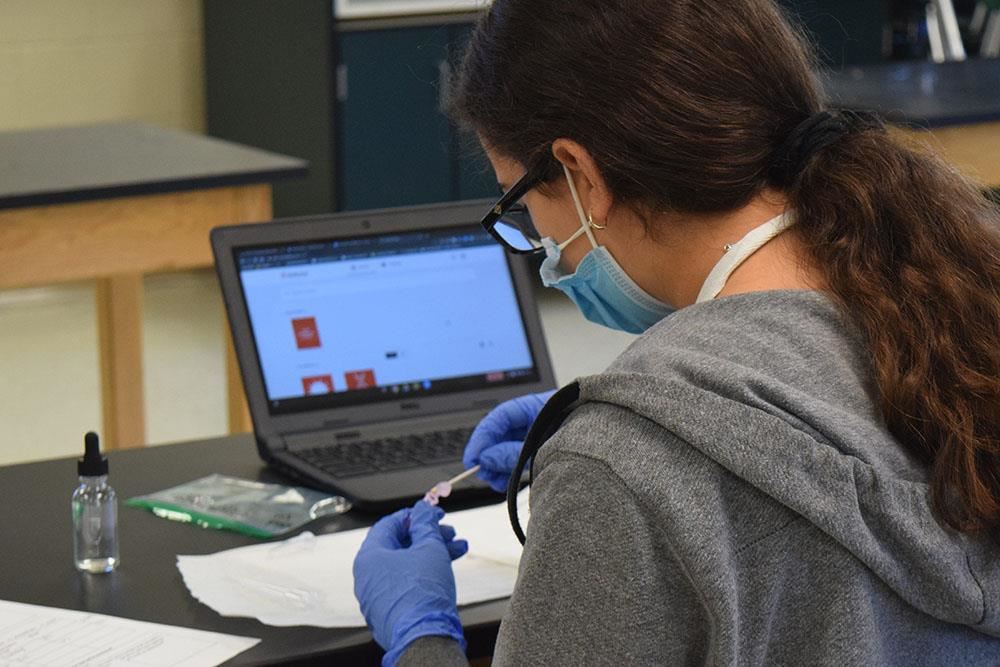 Gloves, protective eyewear, aprons, blood samples. No, it was not a scene at a doctor's office. It is what you could find in Sarah Iacovelli's Project Lead the Way Principles of Biomedical Science class at Brewster High School during a recent lab.
Students were suited up in personal protective equipment (PPE) as they conducted a presumptive test on samples collected from a mock crime scene. The lab was part of a series of lessons built around a suspicious death that students learned how to investigate.
In an earlier lesson, students became forensic investigators, analyzing fingerprints, digital evidence (like texts, email, social media) and hair samples. In this lab, students became medical investigators, using clues to figure out the cause of death for a fictional woman named Anna Garcia.
"This is your presumptive testing," Iacovelli explained to students. "We're going to figure out whether or not our samples could be blood."
Students were given negative and positive control samples and then had to figure out whether blood was present in two samples collected from the crime scene.
"Not all of the samples are blood," Iacovelli said. "It might just be a stain. We want to determine whether or not it could be blood."
Students conducted four tests using distilled water, ethyl alcohol, hydrogen peroxide and phenolphthalein and made their determinations based on the color change they observed after adding the chemicals.
"How did you know whether or not your sample was blood?" Iacovelli asked students after they completed the lab.
"The positive one turned pinkish," a student responded.
"Right!" Iacovelli said. "Now, we still don't know for sure whether it's blood or not. This test gives us an idea. Tomorrow we will test whether it was actually blood."
Eventually, students will also do blood spatter analysis and DNA extraction in order to solve Anna Garcia's case. At the end of each section, students create a career journal that gives a summary of what they have learned about a specific career (including the education or training required and a list of responsibilities and daily activities) and reflect on their interest in the profession.
"I took this class because I'm into science and the medical field interests me," said James Clark.
Classmate Briana Hasa was also thinking about the future when she signed up for the course. "It has to do with investigation and I want to explore work in that area," she said.