Return to Headlines
Wells Art Students Collaborate While Working on Individual Projects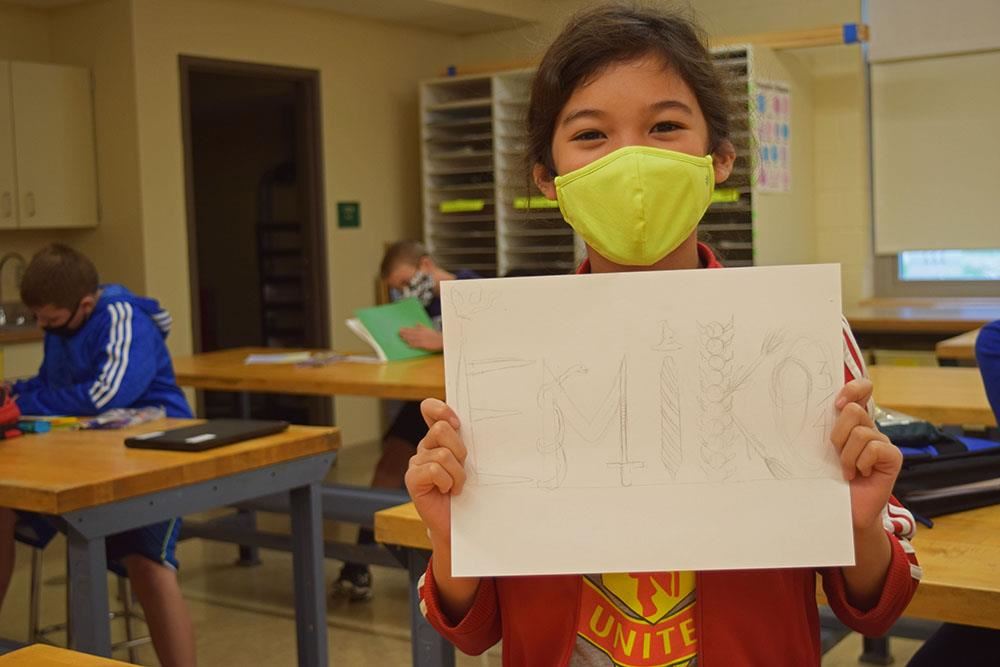 A dinosaur museum, an ice cream shop, an art store. These are just a few of the creative business ideas sixth grade Exploratory Art students at Henry H. Wells Middle School came up with while creating a recent project.
Art teacher Irene Othmer tasked students with coming up with a business and designing branding for it by transforming the letters of their name into symbols related to their business. The o in "Domenick" became a paint palette for his art store. The i in "Aidan" was a baseball bat for his sporting goods store. The c in "Dulce" was drippy ice cream for her ice cream shop.
Before getting to work, students took turns filing up to the front of the room to examine examples created by their peers.
"I always show them examples of student artwork to get them inspired," Othmer said, noting that seeing the work of their peers can make a project seem less daunting than referring to an example from a professional artist.
The inspiration and collaboration continued once students sat back down and got to work. While sketching, they chatted with each other about their ideas, frequently calling across the room to give each other feedback.
When Emiko was having trouble figuring out how to fill out the "k" in her name for her Harry Potter-inspired piece, Aidan came to the rescue.
"You can do a witch's broom!" he said. Emiko loved the idea and added brooms to the pile of golden snitches that she had used to start the letter.
While most students used the first class session to sketch out their designs, a few were able to start adding color.
Since students can't share supplies this year (in order to comply with safety guidelines), Othmer said Wells art teachers created 500 art packets to ensure every student has materials to participate.
"You can't assume students have all the materials at home," she noted. "Some were doing art on lined paper. Creating the art packets changed everything for us in the art department. Students are participating more."
Hybrid students bring the packets to class with them when they are in-person and remote students have them available to use at home as well.