Return to Headlines
Middle School Scientists Learn To Pivot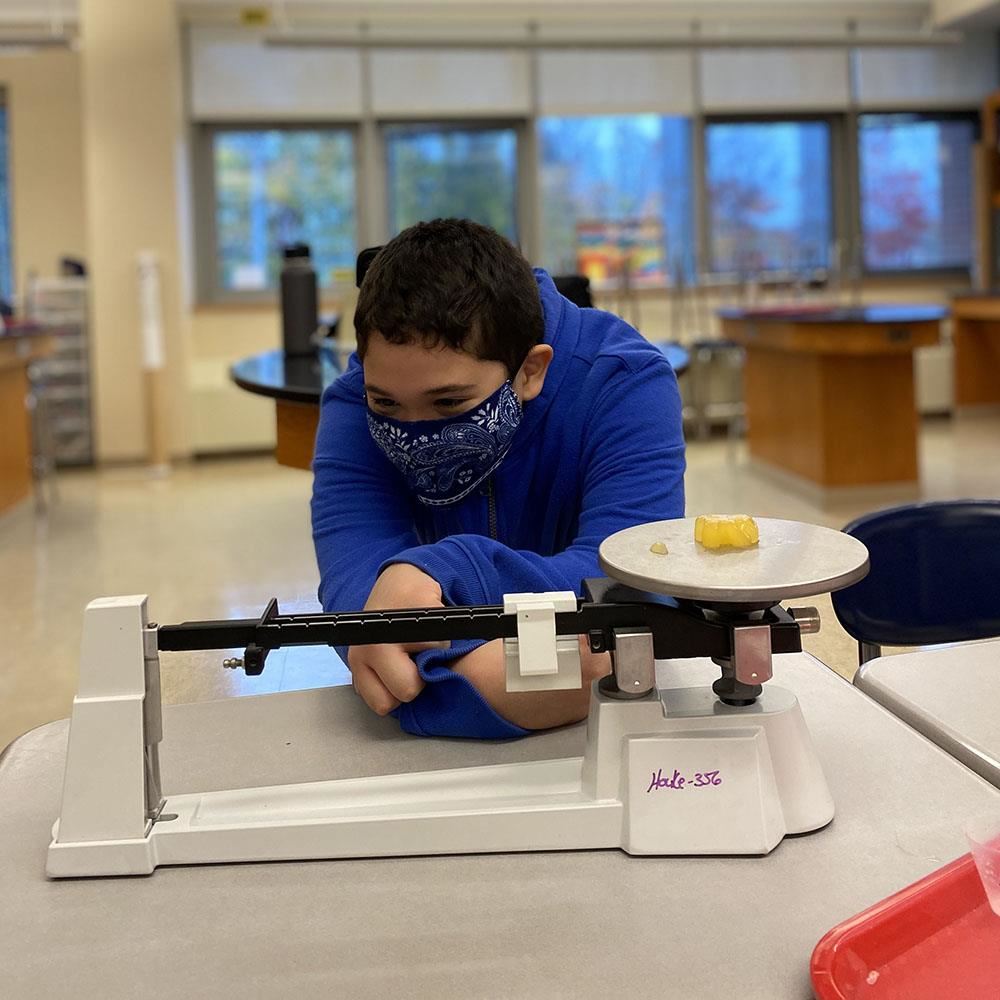 Middle schoolers and teachers adapted on the fly recently while doing a two-day lab designed to review measurement skills and the scientific method. While the lab started out in-person for teachers and some of the students, it quickly shifted to an entirely virtual experience when schools were forced to close down for a couple of days amid COVID concerns.
"We started off with in-person students finding the mass of volume of a gummy bear," said Henry H. Wells science teacher Beth Hooke. "Remote students followed along via Zoom to collect data and take measurements."
Gummy bears were then soaked in 20 mL of water, with a control left in an empty cup. Students in both Hooke's class and Jason Fidler's class made hypotheses about what would happen to the gummy bears before they saw them again for lab day two.

"Student hypotheses varied," Hooke said. "They ranged from thinking the gummy bears would get larger, smaller or that nothing would happen at all. Many students were shocked and excited to see how large the gummy grew and how jiggly it became!"
While the plan had been for the students to measure their gummy bears again on lab day two, that became impossible with the school closure. To make it work, everyone pivoted.
Hooke and Fidler used document cameras to show students how the bears changed after being soaked in water. They also created a presentation to show the measurements of the bears. Students then either accepted or rejected their hypotheses.
"Students handled the adversity of the pivot pretty well," Hooke said. "Technology is such a huge part of their daily routine, so most students were able to seamlessly transition to completing the lab virtually from their home using the data and information we provided."
The teachers took it in stride as well.
"This year we have to be prepared for anything at any time," Hooke said. "A lot of different plans went into motion when we found out we would be virtual. We set up day two of the lab to take pictures and created a slideshow for the students that would show them all of the information they needed. We also brought home lab equipment so we could demo day two from our kitchen tables!"
The switch to a virtual lab also provided some unexpected and important insight.

"One benefit of the unexpected flip is that it provided us an opportunity to really delve into sources of error that can show up in an experiment," Hooke said. "We all had one really big source of error and it was that we were unable to access our original gummy bear. It really brought to light that science experiments often have unexpected variables that affect the outcome."
Adaptability is one of the essential skills that are part of the district's Strategic Coherence Plan. It is something students and staff have been working on regularly, but this particular lab is a great example of adaptability in action. Other skills that were leaned on heavily during this lab include critical thinking and communication and collaboration.