Return to Headlines
Brewster High School's Pablo Crisostomo Suarez Matched with His Top School Through QuestBridge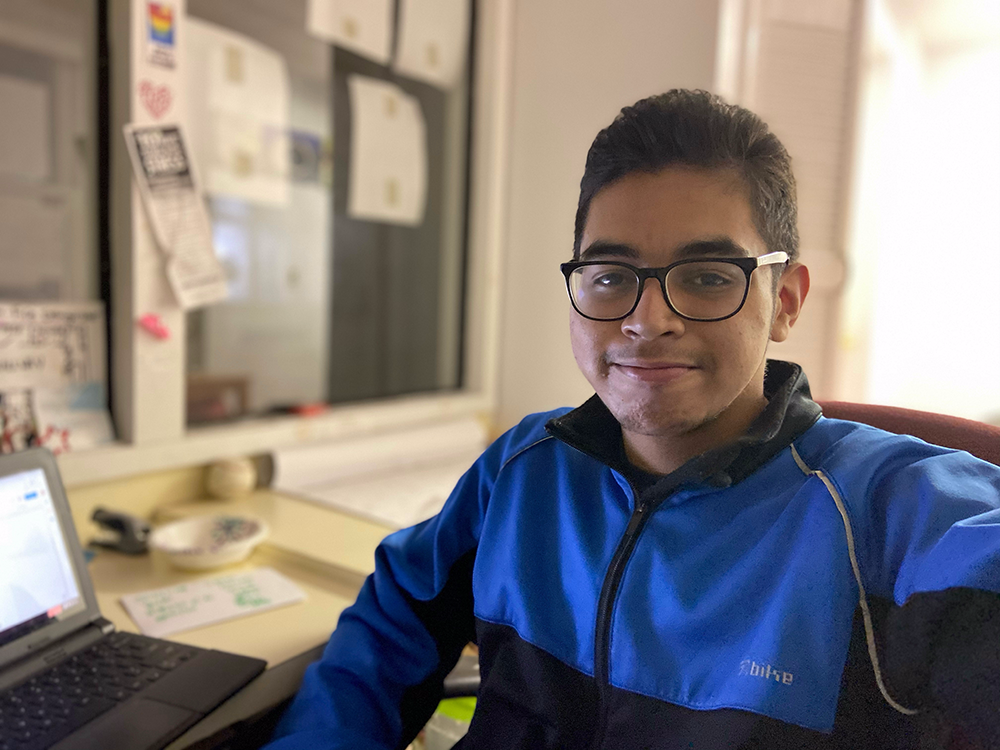 Hoping for the best while preparing for the worst, Brewster High School's Pablo Crisostomo Suarez logged on to his computer. The senior knew that the information he was about to see could change his life.
"When I heard decisions had been released, I filmed a reaction video of myself with not much initial enthusiasm as I logged in," Pablo said. "I quickly started freaking out as soon as I saw the words 'Congratulations! You Have Been Matched!' appear on my screen. I frantically began to call and message people about the news. I had done it! No amount of mental preparation could have done justice to the pure bliss that I felt over the next couple of days."
Pablo had been accepted to Vassar College, his first choice, with all expenses paid thanks to QuestBridge's National College Match. QuestBridge is an organization that connects low-income, high-achieving students with top colleges and universities across the country. Their National College Match program gives students the opportunity to be admitted to one of their 42 college partners, which includes Ivy Leagues and prestigious liberal arts and research institutions, without the financial stress of paying application fees. Pablo was one of 1,464 students, out of more than 18,500 applicants, matched nationwide.
"Once a student is named a finalist, they are also considered QuestBridge scholars and have access to a strong network of alumni and colleges who can guide them through college and into a career," said Jessica McCann, a school counselor at Brewster High School. "While students may be able to get into these schools on their own merit and earn considerable need-based scholarships without the QuestBridge program, it is the support that they are given throughout college that will be the most life-changing for them."
Although Pablo is a great student and very engaged in the school community — he is part of the Men's Choir, Interact Club, theatre, Mu Alpha Theta, Science Honor Society, and National Honor Society — he knew that, statistically, his chances of getting matched weren't very high.
"Had you asked me a couple of months ago, I would have been dumbfounded at the idea that I was actually qualified or worthy of acceptance at any of the QuestBridge partners with the amount of imposter syndrome I had," Pablo said.
McCann was not surprised by Pablo's match.
"Pablo is extremely focused, driven, and self-aware," she said. "He actively seeks out opportunities and takes full advantage of them. He is incredibly hard-working, modest, kind, and polite. Pablo has a compelling story and is an incredibly gifted writer, which helped to bring his backstory to life in this competitive application."
Life has not been easy for Pablo. The oldest of four children, he is the child of immigrants who came to this country with very little and who still struggle in a variety of ways.
"At my core, I view myself as a guy who is normal in spite of absurd abnormality," Pablo said. "For the longest time, I viewed that as achieving the bare minimum. Now I can acknowledge it as an incredible feat. To become a reaction —not a reflection — of your situation is a feat which requires a lot of mental fortitude, but one that I truly know anyone can achieve. Through this, as I've said once before, people even as beat up as me can find stability living in a house of cards."
Drawn to Vassar because of its small size, Open Curriculum model and proximity to home, among other things, Pablo plans to pursue a degree in Computer Science.
"It's very surreal," Pablo said. "I've already put in my Instagram bio that I'm part of Vassar's class of 2025, and that feels dreamlike. To think that I've been accepted to my top school and committed so early in the year, without having to worry about whether I can afford to attend or not, that's very overwhelming to believe."
While thrilled to be accepted to his dream school, Pablo remains humble.
"All I want is to give those like me hope for their future, to know that where you are now isn't where you have to stay."