Return to Headlines
Middle Schoolers Learn How to Turn a Bowl in Virtual Lesson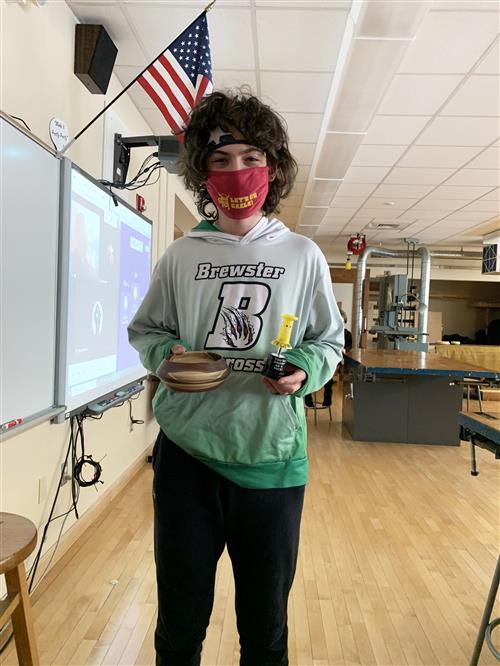 Have you ever wondered how an everyday object like a bowl is made? Henry H. Wells Middle School students recently got a closeup look during a virtual tech class.
"I was home in quarantine, teaching out of my garage where I have a full woodshop," said Career Tech teacher Glenn Palmieri. "I was frustrated that I haven't been able to teach this group of students to make things with wood."
With a little critical thinking and adaptability, two of the essential skills the district aims to teach students during their school career, Palmieri came up with a great alternative.
"I looked over and saw my lathe. I had recently watched a well-known chairmaker buddy of mine put videos on his social media of him turning pieces on his lathe."
From that connection, an idea was born. Students wouldn't normally have a chance to see a bowl being turned because Palmieri does not have the machine in the tech room.
"After I came up with the idea, I told them about all of the other uses it has: baseball bats, spindles, balusters and other parts on stairs."
Palmieri explained each of the tools needed and how they work while making a small bowl live during Google Meets with each of his classes. Over the course of two days, he made 10 unique bowls that he decided to award to the winner of each of his end-of-term TECHBOWL Kahoots.
Kahoot is a game-based learning platform teachers have been utilizing to check in on student learning while having fun. Palmieri covered all the projects the classes worked on as well as measurement, rulers, wood, paper, safety facts and even questions about himself.
"During the Meets, many students asked questions or pointed things out," Palmieri said. "I had students who said it was amazing to see. It's an item a lot of people have in their house, but might not ever find out how they are made."
The TECHBOWLS extended the fun. In one class, there was what Palmieri call an "epic match." With more than a dozen lead changes and the top five flip flopping constantly, the winning student took the lead during the last two questions.
"It was fun," said Palmieri. "Students saw how to make something using a simple machine that literally just spins wood. With a few tools, you can create something beautiful that will last a lifetime."