Return to Headlines
Wells Middle Schoolers Take Part in Respect for All Week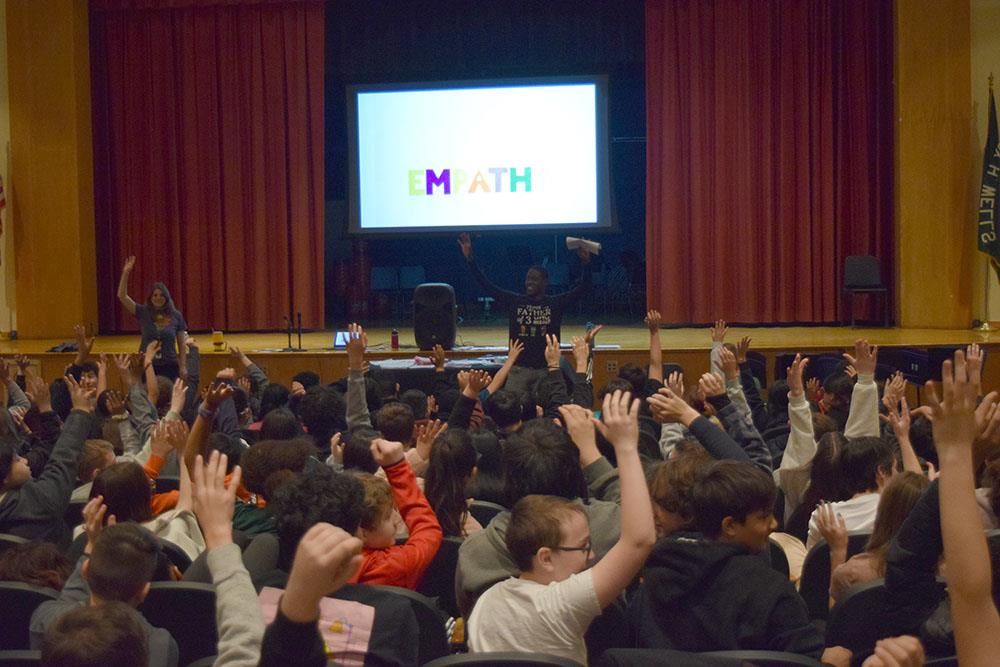 Henry H. Wells Middle School recently held a schoolwide, weeklong Respect for All Week that was designed to promote an inclusive, safe environment and encourage the development of traits like kindness, empathy and respect.
The week kicked off with the unveiling of a Respect for All Challenge. Students were encouraged to complete four acts in a row on a bingo board. Options included things like "Leave a complimentary comment for a teacher on their Google Classroom," "Eat lunch with someone new" and "Do a good deed for the building — pick up trash on the floor, throw out cups laying in the water fountain." Students who completed the challenge received a certificate at the end of the week in a grade-level meeting.
Throughout the week, there was a spirit wear theme (Wednesday, for example, was superhero shirt day. Students were encouraged to "Be a hero, encourage and respect others") as well as an activity that encouraged empathy and respect. On Tuesday, advisory lessons focused on empathy. On Wednesday, guest speaker Nathan Smith spoke to students about empathy and the power of words. On Thursday, students had the option of meeting Manguso for recess to write six-word memoirs on respect, empathy, or the power of words. Lastly, on Friday there was an open mic at grade level meetings for students to present a piece of writing or a video on respect. There was also a "Do Something" board outside of the cafeteria. Students were encouraged to celebrate themselves by listing something selfless they did for someone else.
Smith's talk seemed to resonate with students.
"Did you know that you literally have power?" he asked them. "Simply with your words. You know that old saying, 'sticks and stones may break my bones but words will never hurt me?' It's the biggest lie ever told. Why is it the biggest lie?"
A few students called out answers, noting that words hurt and that they speak louder than actions.
Seventh-grader Peyton's answer got a round of applause from her peers.
"If you get hurt by sticks and stones," she said, "it will eventually heal. But words leave a permanent mark on you."
Smith leaned into what Peyton said, noting that when he speaks to groups of adults they can always remember — almost immediately — teachers who made a negative impact on their lives. He related that back to the power of words and encouraged students to be positive forces.
"Every single time you speak to somebody — whether it's negative or positive — it has a lasting impact," he said. "So think about that every time you open your mouth. Sometimes, adolescents can do things without thinking. I'm asking you, as you're developing into young adults, to think before you speak. When you do that, you will be saving a life. That's what superheroes do."