Return to Headlines
Wells Middle School Works Together To Raise Money for Ukraine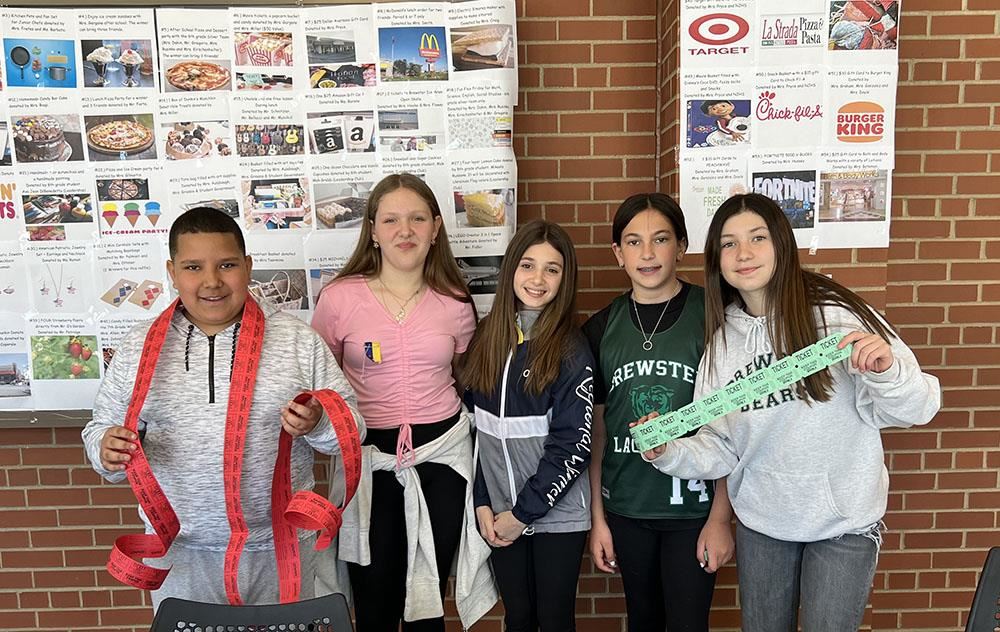 "Community service is when people come together and work for a single cause," Henry H. Wells Middle School Assistant Principal Alicia Manguso said to an auditorium full of eighth graders during a recent grade-level meeting. "That's something that we did together as a school and I think it's really important to celebrate it. When you are kind to others or do good things for other people, it is contagious."
Wells had just completed a month-long effort to raise money for the people of Ukraine that united clubs and classes from across the school and raised $2,400.
The Leadership Club spearheaded a raffle that included 60 donations from students, staff and other clubs. Raffle prizes ranged from gift cards and special lunches with teachers to student-made baked goods and the chance to pie teacher John Gregorio in the face.
In addition to the raffles, Tom Solimine's students made chocolate-covered pretzels and sold them during lunch while the National Junior Honor Society sold Smencils. The Kindness Klub made yellow and blue ribbons for students and staff. Student Government and Irene Othmer's art classes made posters that say "Wells Stands with Ukraine." On Fridays, the entire school wore the colors of the Ukrainian flag.
"It has been a schoolwide endeavor that students are very excited about," said Marisa Gargano, co-advisor of the Leadership Club.
Students worked to secure some of the raffle prizes, creating baskets together as clubs, reaching out to local businesses and donating things on their own.
Ava DiBenedetto, who went to a local pizza place to ask for a donation, realized she could also contribute prizes during a Leadership meeting.
"We were talking about donations," she said, "and I thought I could make scrunchies." Ava ended up donating both a set of hair scrunchies and a handmade painting.
Jaylin Morales was one of the students who helped to sell raffle tickets during lunch.
"It was easy to sell the tickets," she said. "Kids would see them at lunch one day and come back the next day with money."
The schools' joint efforts helped to raise an incredible $2,400, with $1,200 donated to the Red Cross and $1,200 donated to UNICEF.
"We really came together as a school community to make sure that we are helping others," Manguso said during the grade-level meeting. "That's something that's really important. It's something that we want you all to leave here with."
Manguso noted the district's Strategic Coherence Plan (SCP) skills and how the school's efforts incorporated every one of them.
"All of the work that was done through this schoolwide effort for the people of Ukraine demonstrated our SCP skills," she said. "There was collaboration and communication between clubs, recognizing that there are people in need and wanting to help — that's part of civic responsibility. You used critical thinking to figure out how we were going to be able to raise money in a fun way that would motivate people to participate. You were adaptable. Some students gave up parts of their day in order to work the tables. And this took about a month from start to finish. It takes perseverance to see something through."