Return to Headlines
Caine's Arcade Returns to CV Starr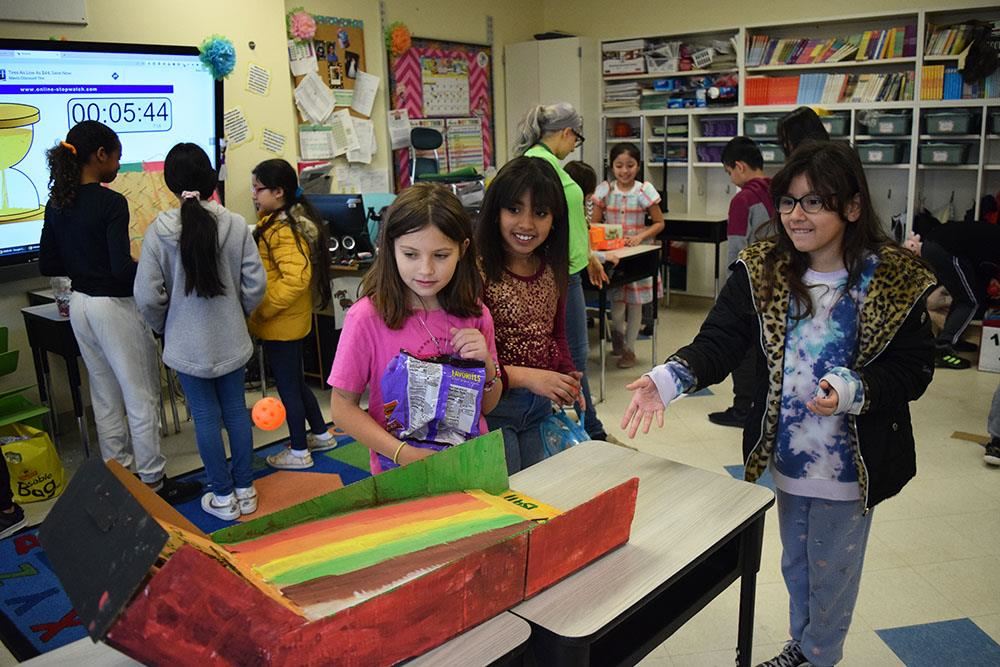 Caine's Arcade is back! Just before spring break, Frank LaMorte's and Michelle Marzziotti's classrooms at CV Starr were filled with laughter and cheers as students excitedly bounced from station to station playing homemade, arcade-style games designed by their peers.
The beloved school tradition had been on hiatus due to COVID restrictions — which meant no students in the building had participated in the event before.
"Participation is a little lighter than usual this year," LaMorte said, referring to the number of students who created games from recyclable materials found around their homes. "My students have never experienced this, but they are excited."
While there were fewer games to play than in a normal year, the energy level was high as the whole school came through the classrooms in 15-minute sessions to test out the student-made games.
Inspired by a nine-year-old California boy named Caine who spent a summer making a cardboard arcade in his dad's used auto parts store, the event aims to meld different core subjects while encouraging students to be innovative and use real-world problem-solving skills.
Student creators repeatedly noted the ways they had to use critical thinking to improvise their designs.
Jasmin Crisostomo Suarez, who created a beanbag toss-style game with a points system, was constantly rethinking her design as she created her game.
"I thought of a beanbag toss but I didn't have any beanbags," Jasmin said. "I wanted to make them out of paper at first, but it didn't work. So I looked in my kitchen and tin foil was the first thing I found. I crumbled it up and rounded them a little bit and it worked!"
Jasmin had also hoped to have a backboard that would be worth 100 points, but, after struggling with super glue, she reassessed.
"It just didn't work out," she said. "I realized it wasn't worth it, so I took it off."
Katheryn Alvarado also found herself reworking her original plans. She made a mini-basketball game that used bouncy balls.
"I got cardboard that isn't too hard and curved it into hoops," she said. "At first they were too small so I had to take them off and try again."
Isabella Arias Tlaczani who made a similar, larger scale game called Shoot the Hoop, also ran into a couple of struggles while building her game. The challenges made her think ahead to the day of the event.
"I brought extra supplies just in case," Isabella said. "I have a hot glue gun and some tape."
At the end of the project, the students created fully functional games that brought hours of joy to their schoolmates.